—- Fan attendances at top division matches in Germany, France and Spain have increased for the opening games of this season compared to last. But in Italy and France matchday attendances have dropped, according to data from Benchmark Sports, the data and analysis arm of KPMG's Sports practice. Overall the 'big five' leagues have a combined attendance increase of 1.3%. 
So far this season 11.4 million fans have attended matches with the average number of spectators per match at 29,920. In Germany's Bundesliga the average is 43,358, a 1.3% growth on last season. In the Premier League the average is 36,460, a 1.2% growth.
The reasons for the disparity between Germany and England is predominantly due to the higher number of stadiums with larger capacities. A table ranking the average attendances of the 98 clubs in the five leagues shows five German clubs in the top 10 and 10 German clubs in the Top 20.
There are five English clubs in the top 20, three Spanish and just two French.
English clubs can be expected to close the gap on the Germans over the next few years as major construction projects are completed for West Ham, Liverpool, Spurs and Chelsea which will see significant increases in ground capacities.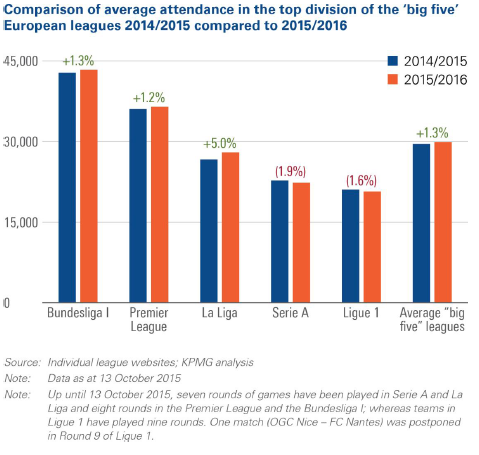 Germany's Borussia Dortmund top the table with an average attendance of 83,144, 5,500 ahead of Barcelona who are 1,300 ahead of Manchester United. Bayern Munich and Real Madrid complete the top five.
Inter Milan top the Italian entries in the table at 13th, while Olympique Marseilles and Paris St Germain lead the French clubs at 18th and 19th. The top 27 clubs in the table – more than 25% of clubs in the big five leagues – have had average attendances of over 40,000 spectators so far this season.
The report highlights that the greatest growth season-on-season has been the 5% seen in Spain.
In contrast Italy is struggling with Serie A's crowds showing a 1.9% drop over the first seven games of the 2015/16 season following a 3.9% year-on-year decrease registered across the whole of the 2014/15 season.
France's Ligue 1 has seen a 1.6% downturn in average attendances after the first nine rounds of the 2015/16 season but various ground improvements for the Euro2016 championships could stem the decline.
To see the full report go tohttps://www.footballbenchmark.com/matchday_attendances_across_the_big_five_european_leagues_shows_some_encouraging_signs_at_the_start_of_the_2015_16_season#
Contact the writer of this story at paul.nicholson@insideworldfootball.com