KABUL: Next Tuesday's international friendly between Afghanistan and Pakistan in Kabul's AFF stadium – and the start of the second edition of the Afghan Premier League two days later – project two major milestones in football in this war-torn country.
The international match between the Asian neighbours will be the first such fixture in Afghanistansince 2003, when the host side played Turkmenistan in the Ghazi stadium.
Sayed Aghazada, secretary-general of the Afghan football federation, said: "The fact that we are hosting our first international game in 10 years, and the first against Pakistan in Kabul since 1977, represents a major highlight for football in our country.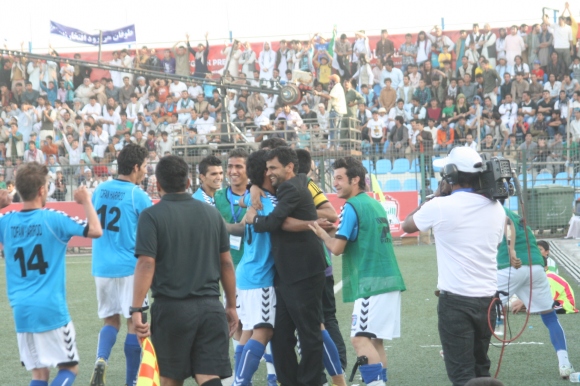 FIFA.com
"It shows that after a very difficult period we are returning to normality. Afghan football has improved in terms of organisation and infrastructure, and we now believe that football can play an even bigger role in our country. Of course we expect a sold-out crowd."
The game will be played at the AFF stadium on the FIFA Goal project funded artificial pitch. Two days later, the same venue will host the opening of the second edition of the APL.
League action returns
Eight teams from all over the country, including De Maiwand Atalan from south-west Afghanistan with players from the violence-prone provinces of Helmand and Kandahar, plus defending champions Toofan-Harirood, are set to go head-to-head for the coveted APL trophy. A scouting process implemented by AFF since April was used to select all players. APL matches will be shown live on Afghanistan's Tolo TV.
The league plays a critical role in our attempts to further develop football in Afghanistan, increase its popularity and discover new talents," Ali Askar Lali, a former Afghan international and APL match commissioner said. "Football is among those activities that so far have not become direct targets of violence. However, we will now have improved security, accreditation and ticketing measures since we are expecting to have a capacity crowd of 6,000 spectators for all games."
Aghazada added: "In the first APL season, we witnessed spectators from different backgrounds and provinces sharing their passion for football in the stadium, which proves that football can promote the unity of Afghan people from all tribes and places."
During the past ten years FIFA has invested USD $1.5million towards two Goal projects in Kabul: the installation of a football turf pitch at the AFF stadium in Kabul and the construction of the association's headquarters.