KEIR RADNEDGE REPORTING —- Good news for FIFA president Gianni Infantino ahead of congress tomorrow: hapless Special Prosecutor Stefan Keller has quit his investigation into Infantino's secret meetings with former Attorney-General Michael Lauber.
In fact Keller had no option but to walk away after being already issued two weeks ago when his work was dismissed as useless by the Federal Criminal Court.
Infantino had filed a complaint about Keller's bias which had become obvious from subjective comments on the lawyer's own misguidedly-created website. However the court has not yet ruled on a FIFA application to declare all Keller's work invalid.
The timing of Keller's departure is ideal for Infantino before he delivers an annual report tomorrow [Friday] to the online annual congress of world football's governing body. The date falls on the anniversary of its founding in Paris in 1904.
There is nothing in agenda of concern for Infantino, five years after his election as president in succession to the scandal-battered Sepp Blatter.
World Cup issue
He has denied any covert role in the Super League fiasco and will no doubt enjoy hearing a proposal from the  obsequious Saudi Arabian federation that the money-making World Cup should be held every two years.
The latter idea was first raised two decades by Blatter who realised himself in the end that this was a practical and political nonsense.
As for Keller, his exit will only encourage Infantino in his own self-vindicating confidence at the head of the world game in which his most recent power-play was seeing his favoured candidate, South African businessman Patrice Motsepe, elected as new head of an African confederation.
Infantino's FIFA has been trying for several years to bring CAF to heel after years of money-swallowing chaos and confusion.
Keller had been appointed in 2020 to follow up an anonymous formal complaint to the Swiss legal authorities about secret meetings five years ago between Lauber and the then newly-elected world federation supremo.
FIFA and Infantino complained long and loud that the investigation was a witch hunt, a fishing trip, and that they were being wrongly denied knowledge of its precise nature.
Infantino said: "I still don't know what is written in these complaints which were quite secretive.
"I was not informed of what I was accused of. I don't think that's fair and I hope we can progress from this rather quickly and that it is clear to each and everyone that it is impossible, if you meet the Attorney-General of a country, that you do something even remotely illegal.
"That is unthinkable."
FIFA Council statement (transfer system, WWC dates etc):
A third package of reforms to the transfer system has been approved today by the FIFA Council. The reforms concern important regulatory matters regarding the international transfer of minors, squad sizes (in particular with respect to loans), player registration periods and transfer windows, financial regulation, and related matters, including collective bargaining agreements, sporting just cause and registration.
The reforms were approved by the FIFA Football Stakeholders Committee last Friday following an ongoing and wide-ranging consultation process conducted with key actors throughout the world of football. The latest package follows previous reforms that resulted in the creation of a clearing house and regulatory conditions to enforce the payment of training compensation.
Meeting by videoconference on the eve of the 71st FIFA Congress, the FIFA Council also approved key dates for the international match calendars, chief among which were the tournament dates for the FIFA Women's World Cup Australia & New Zealand 2023™ from 20 July to 20 August 2023. The new play-off tournament for the FIFA Women's World Cup 2023 will be held from 17 to 23 February 2023.
The Council also approved dates for the FIFA U-17 Women's World Cup India 2022™ (11-30 October 2022), FIFA U-20 Women's World Cup Costa Rica 2022™ (10-28 August 2022), as well as a 14-team play-off for the FIFA Arab Cup 2021™, taking place between 19 and 25 June this year.
In addition, the Council approved the establishment of respective FIFA subsidiaries to manage the organisation of the FIFA Women's World Cup 2023™ in Australia and New Zealand and the FIFA World Cup 2026™ in Canada, Mexico and the USA.
The 71st FIFA Congress will be broadcast live on FIFA.com as of 15:00 CEST tomorrow, Friday, 21 May.
############
Ratified: Mu's world U20 indoor 800m record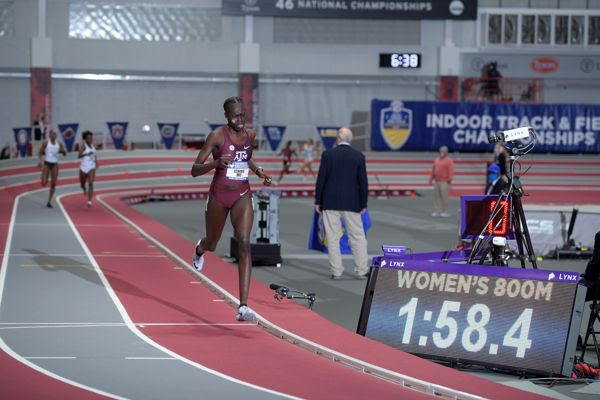 © Errol Anderson
Women's world U20 indoor 800m record
1:58.40 Athing Mu (USA) Fayetteville 27 February 2021
Athing Mu's world U20 indoor 800m record of 1:58.40, set at the SEC Indoor Championships in Fayetteville, Arkansas, on 27 February, has been ratified.
The 18-year-old produced a stunning solo run over four laps of the Randal Tyson Track Center, going through 200m in 28.65 and 400m in 57.96. By the time she reached 600m in 1:27.60, she had a three-and-a-half second lead over the rest of the field. A final lap of 30.81 brought her home in 1:58.40.
Just one month prior, Britain's Keely Hodgkinson had bettered the world U20 indoor record (yet to be ratified) with 1:59.03 in Vienna on 30 January. Before this year, the ratified world U20 record stood to Ethiopia's Meskerem Legesse with her 2:01.03 clocking in Fayetteville on 14 February 2004.
"She might be the greatest freshman athlete in any sport ever at Texas A&M and maybe the greatest collegiate freshman athlete in the sport of track & field," said Mu's coach, Pat Henry. "I've never seen a freshman accomplish the things that she has achieved and we're not even done with the season."
Earlier in the indoor season, Mu clocked a 400m PB of 50.52. In recent weeks, she has recorded North American U20 records of 1:57.73 for 800m and 49.84 for 400m.
World Athletics
WORLD ATHLETICS PARTNERS

WORLD ATHLETICS SUPPLIERS