LONDON: Leicester City can carry off their second prize in three months when the Premier League champions take on FA Cup winners Manchester United in the Community Shield curtain-raiser to the new top-level season at Wembley.
Foxes' manager Claudio Ranieri says he has already forgotten about last term while new United manager Jose Mourinho says the trophy will "have meaning" for those of his players who were part of the FA Cup-winning side last season.
Ranieri, having to refashion his midfield after the departure of N'Golo Kante to Chelsea, said: "We're ambitious but know it will be very hard. I forgot what happened last season. Now my focus is on the new season."
Leicester have won the traditional season-opener once, beating Liverpool in 1971, when they were invited to take part as second-tier champions after double winners Arsenal pulled out.
Ranieri has a full strength squad available with England striker Jamie Vardy back in training after Euro 2016.
He added: "All managers and players want to play at Wembley Stadium. It's one of the most famous stadiums in the world. This is not a friendly. We will give the maximum and also Manchester United will too. Both teams want to win it."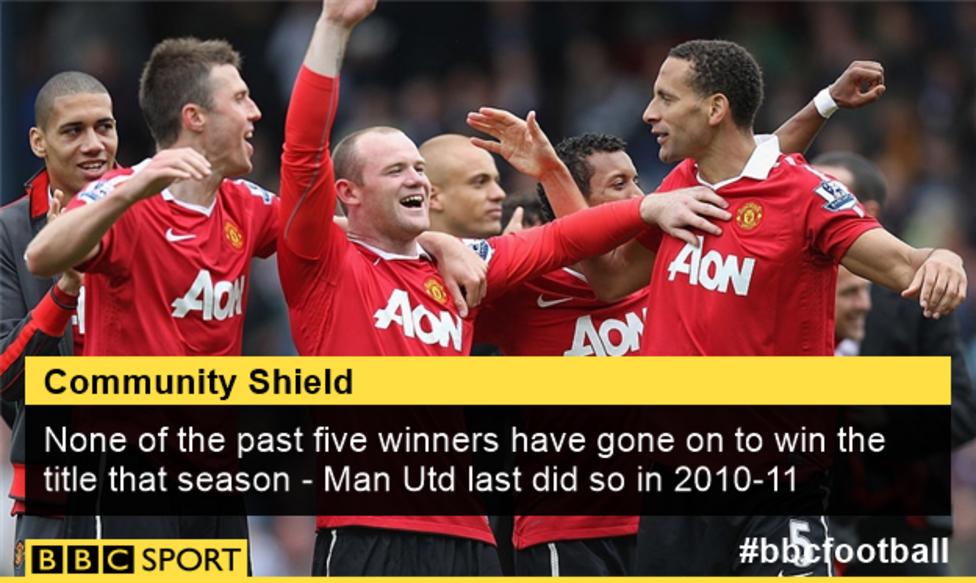 Mourinho concerns
Mourinho, who replaced Louis Van Gaal in the week after United's FA Cup win against Crystal Palace in May, has been left frustrated by his side's pre-season.
A game against Manchester City in China had to be cancelled because of bad weather.
Mourinho said: "The week of no work in China was really bad for us so we need to train, we need to play, we need minutes for the players.
"Now we have no chance to train against other teams. We have Leicester before the Premier League and it is not a training session – it is a game.
"We have to face it as a game. We have the chance to give minutes to some people. Some who I know cannot play for 90 minutes, but of course we are going to try to win it."
The only previous Wembley meeting between the two teams was the FA Cup final in 1963, which United won 3-1. Both matches between the clubsin the Premier League last season ended 1-1.
This will be Manchester United's 30th appearance in the Community Shield (formerly Charity Shield) which they have won a record 20 times (16 outright wins and four shared). They have also won it in five of their last six appearances (2007, 2008, 2010, 2011, 2013).
###########