MADRID:
 Madrid loses one of its figureheads. German "Mono" Burgos is leaving the colchoneros at the end of the season. The long-time player and assistant coach wants to go his own way.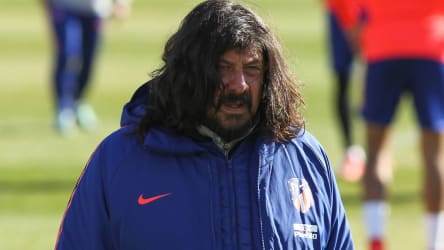 The "rocker" likes to wear his hair long: Mono Burgos in February 2019.
imago images
As Burgos explained in a video message, he wanted to try himself as head coach from the new season. After ten years of experience in La Liga, he was ready to "control the fate of a team". As farewell, the 51-year-old would like a title: "I want to leave Atletico as a champion, there are still many dreams to be fulfilled and I am a dreamer."
The charismatic Burgos, who also gained fame as a very successful rock musician, also thanked his sponsors in the video, naming Luis Aragones, Carlos Griguol, Marcelo Bielsa, Americo "El Toro" Gallego – and of course Diego Simeone. His Argentine compatriot was "a friend for a long time", with him he understood himself blind. "I have often said that I had breakfast and dinner with him more often than with my own family," said the former goalkeeper. The farewell was only "a 'See you soon' and not a 'goodbye'. Football will ensure that we see each other again."
Burgos had assisted Simeone both in Italy at Catania Calcio and in Argentina at the Racing Club from Avellaneda. They have been working together at Atletico since 2011, shared successes include winning the Spanish championship 2013/14, triumphs in the Europa League 2011/12 and 2017/18 and moving into the Champions League final 2013/14 and 2015 / 16.
#############